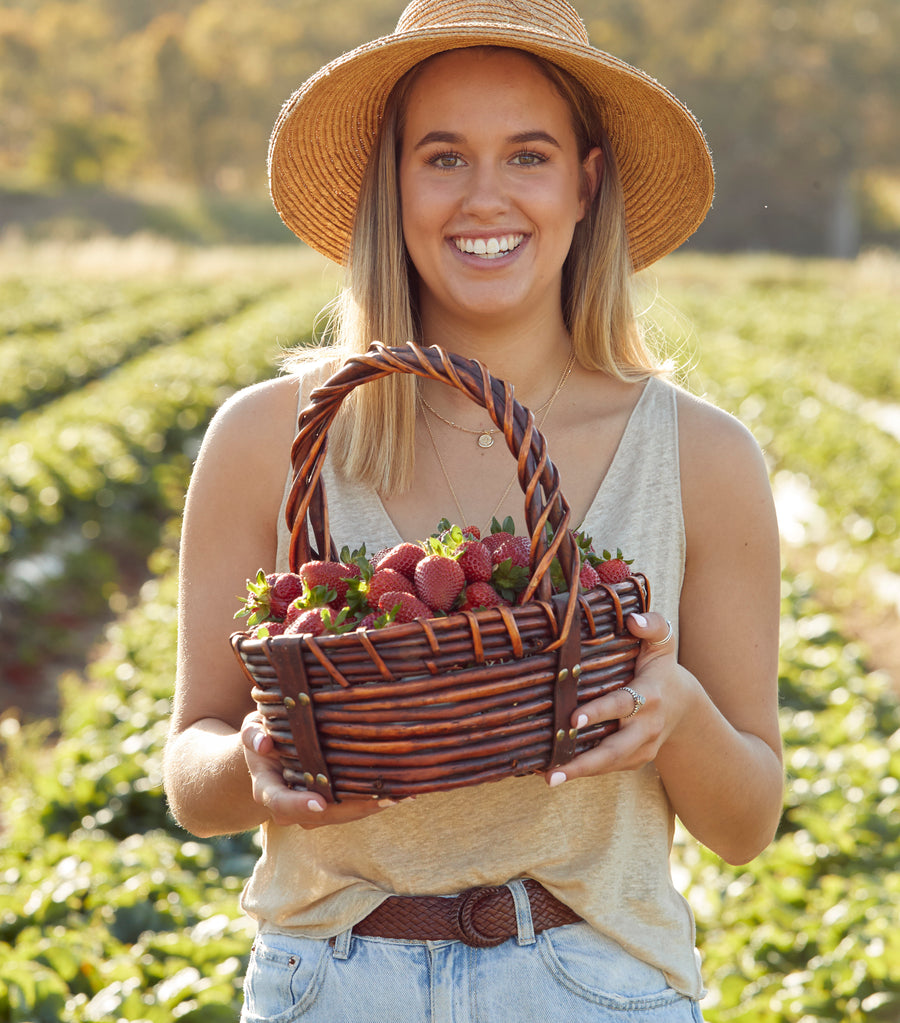 Open today
Pick your own strawberries
(november to april)
The perfect way to spend a sunny afternoon with friends or family
There's nothing quite like the taste of freshly picked strawberries. And, not to be biased, but we think we've got the best strawberries on earth. Juicy, ripe, and packed with sweetness and flavour, our strawberries are nothing like any you've tasted before.
We've been running strawberry picking at our farm since 1975, and we've never missed a season.
It's become an Adelaide institution, with thousands of people coming to enjoy the simple pleasure of pick your own strawberries every season (November to April). 
It's truly the perfect day out for family and friends to enjoy; breathing in the fresh air of the patch and hunting for that perfect strawberry.
---
Why would we need to close the patch?
We're open almost every day from November to April each year, but sometimes we'll have to close the strawberry patch for a few days. Always check whether our patch is open before visiting.
Why would we need to close the patch? Sometimes (particularly on weekends), we are so busy that we simply get what we call 'picked out'. This means that all the ripe berries have been picked and the plants need time for their green, young fruit to ripen. We sometimes close the patch for a few days to allow this to happen.
We might also need to close the patch if we get a long spell of hot weather and the berries suffer, or if there is a fire warning in the local area. 
However, we are open most days through the season, so we look forward to welcoming you very soon.
Luckily, even if the patch is closed we have plenty of other things to do at our strawberry farm, including exploring our farm shop, cafe, cooking demonstrations, farm-made ice cream and more.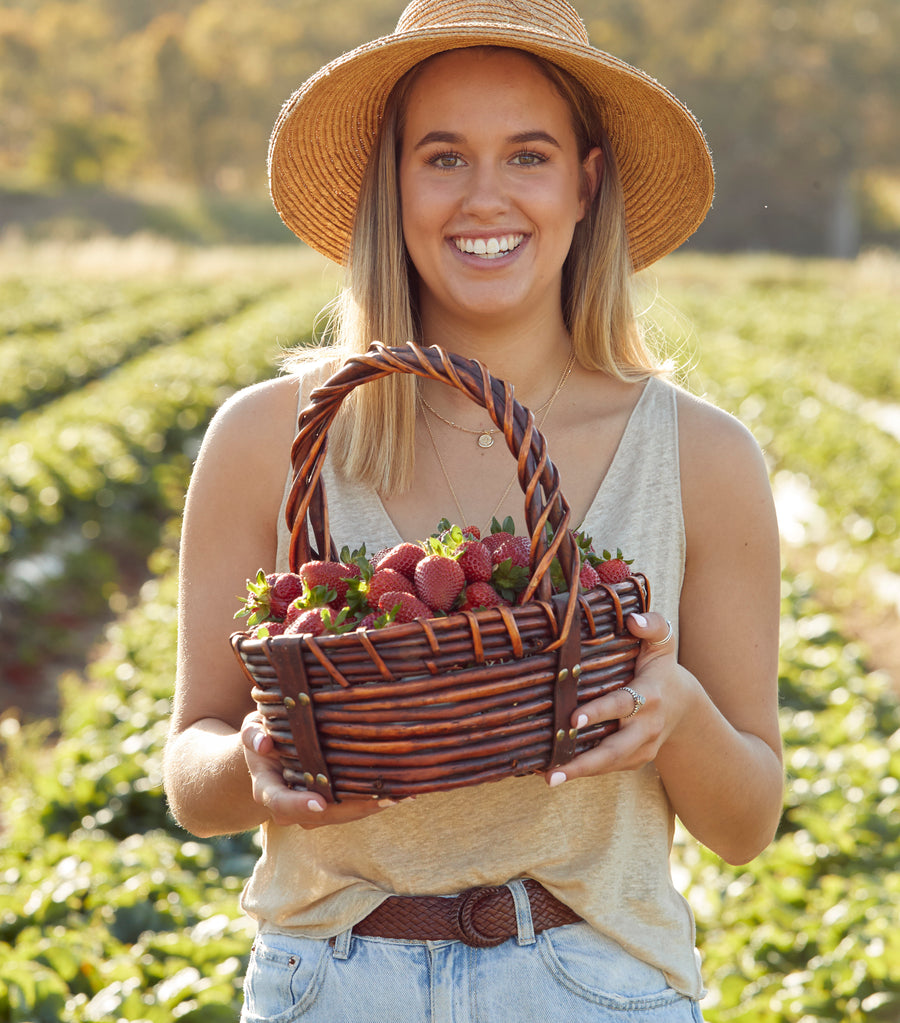 Follow these three easy steps to get the most from your strawberry picking experience...
Share your berry experience with #PickMeBeerenberg
Snap a picture to go into the draw and win a prize pack
Be sure to enter our Pick Me! competition, where we look for the best pictures captured in the patch.
Simply upload an image of your strawberry picking experience to Instagram or Facebook and include the hashtag #PickMeBeerenberg for your chance to be selected as one of our weekly winners of a Beerenberg prize pack.
Be inspired by these impressive past winners: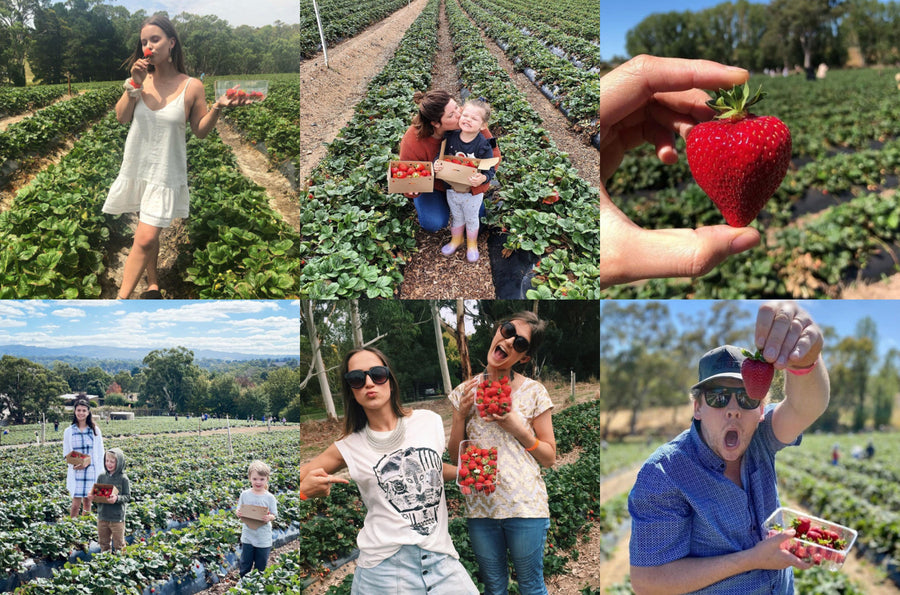 ---
Strawberry picking FAQs
What month is best for strawberry picking?
Our patch is open from the end of Spring through to the beginning of Autumn, typically November through to April. This can vary slightly each year depending on things like the weather and how many berries we've been blessed with. Be sure to check whether we're open before visiting.
The great news is that we're a year-round destination with plenty to do even if the patch is closed. See our Explore the farm section for more about our farm shop, tastings, demonstrations, and farm cafe.
Where can I pick strawberries in Adelaide?
We're glad you asked! If you're looking for strawberry picking in Adelaide, you can't go past the Beerenberg experience. Visit our family farm and strawberry patch, and stock up on all your favourite sauces, relishes, chutneys, jams and dressings in our farm shop.
Located in the heritage town of Hahndorf, just 30 minutes from Adelaide, Beerenberg is a must-do when in the area.
How do you pick a ripe strawberry?
For the best strawberries, look for a gorgeous, shiny, vibrant red colour.
Strawberries are ripest when at least ¾ of the berry's surface has turned from green to red. Gently hold the strawberry between your thumb and forefinger, and at the same time, pull and slightly twist the berry to snap it from the base of the stem. 
This simple method ensures you don't damage the berry or the plant.
How do I store my freshly picked strawberries?
Your freshly picked strawberries will last well in the fridge for up to three days. If you're worried about spoilage, strawberries also freeze beautifully if you want to make jam or some equally delightful treat later on.
Want to use up some of your harvest? Why not try some of our recipe ideas, including a whole category dedicated to strawberries. Discover our strawberry recipe ideas here.