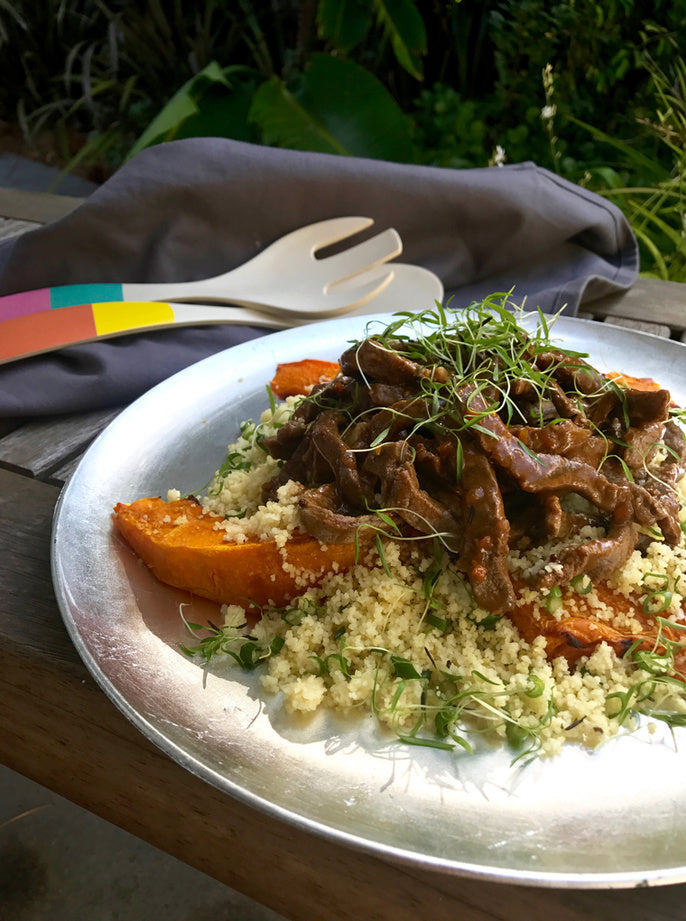 | | |
| --- | --- |
| Preparation time: | 10 - 15 mins |
| Cooking time: | 20 - 25 mins |
| Serves: | 4 |
Ingredients
¼ small jap or kent pumpkin, skin removed and cut into 4 pieces
1 tablespoon oil
1 cup couscous
salt and pepper
2 spring onions, sliced
fine zest of one lemon
600g stir-fry beef
Method:
Preheat the oven to 200°C and line a baking tray with non-stick paper. Place the pumpkin on the tray and top with half of the oil. Place in the oven for 20 minutes or until soft.
Place the couscous in a large heatproof bowl with a pinch of salt and pepper. Add 1 cup of boiling water and quickly cover with cling film. Sit for 5 minutes before removing the cling film and fluffing the couscous with a fork. Add the spring onions and lemon zest and toss to combine.
Place the pumpkin on a serving dish and top with the couscous.
Heat a large frypan on high heat and add the remaining oil. Add the stir-fry beef and cook for two minutes whilst stirring. Add the Beerenberg African Spice Taka Tala Sauce & Marinade and cook for another two minutes. Place the beef on top of the couscous to serve.