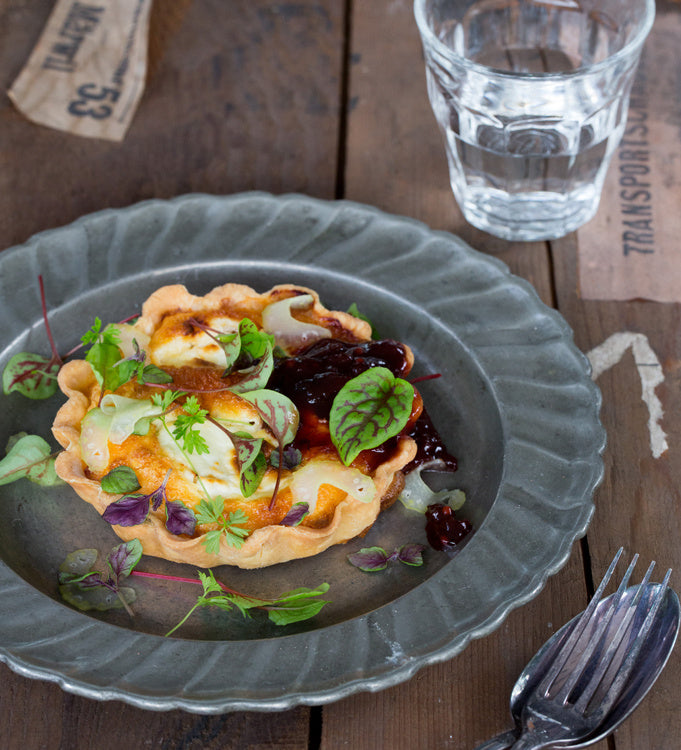 Ingredients
FOR THE PICKLED CELERY:
1 rib of celery
1 tsp lemon juice
a pinch of salt
FOR THE SHORTCRUST PASTRY:
200g plain flour
100g unsalted butter, cubed and chilled
¼ tsp salt
---
Directions
A basic goat cheese tart is an easy and delicious entrée or light lunch, but combine it with some lightly pickled celery and some flavourful Beerenberg Balsamic Beetroot Relish, and it's a picture-perfect dish every time.
For the pickled celery, slice the celery into thin sections, discarding any woody threads or especially tough skin. Combine in a sealable bag with a pinch of salt and the lemon juice and place in the fridge for at least 30 minutes.
For the pastry, place the flour and butter in a food processor and process until it resembles breadcrumbs. Add chilled water a little at a time while processing until the mixture just forms a ball. Remove from the food processor, knead lightly or fraisage just until the dough is well combined, then wrap in plastic and chill for 30 minutes.
Heat your oven to 175°C (fan forced). Roll the pastry until 5mm thick and place into 4 greased individual tart tins, pressing off any excess. Put the lined tins back in the fridge for 10 minutes to chill. When chilled, weight each tin with pastry weights and blind bake the tart shells for 10 minutes.
Sauté the leeks in butter with a pinch of salt for about 5 minutes until well softened. Divide the leeks between the tart tins and press into the base. Top the leeks with slices of goat cheese.
Whisk together the eggs and cream and pour into the tart tins until the tarts are filled. Bake for 30 minutes, or until the tarts are golden brown.
Top the tart with Beerenberg Beetroot Relish and scatter with the pickled celery, baby herbs and/or salad leaves.