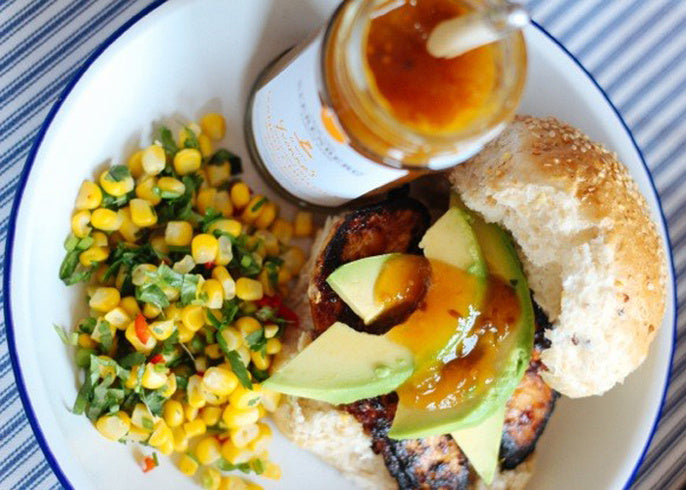 Ingredients
2 chicken breasts
1 tsp ginger, finely grated
2 garlic cloves, finely chopped
1 tbsp runny honey
1 tsp sweet paprika
1 tsp ground cumin
1/2 tsp ground cinnamon
2 tbsp olive oil
salt and pepper to taste
1 avocado, thinly sliced
Corn Salsa:
2 cobs sweet corn
1 cup coriander leaves, roughly chopped
1 tsp fresh chilli, finely chopped
juice and zest of two limes
4 soft bread rolls
---
Directions
These burgers are a great alternative to the traditional mince pattie and everyone always adores them! The corn salsa is a perfect side-dish but you could always drop it in favour of a handful of rocket leaves.
Slice each chicken breast, horizontally, through the middle and into two thin pieces. Mix all marinade ingredients together then rub over the chicken pieces. Cover with plastic and leave to marinate in the fridge for at least 3 hours but preferably overnight. For the corn Salsa - cook the corn in boiling water for 5 minutes or until tender, cut away from the cob and mix with the coriander, chilli, lime juice and zest.
Preheat grill or a saucepan to high and cook the chicken pieces for a couple of minutes on each side or until cooked through. Serve on bread rolls with a few slices each of avocado, dollops of Beerenberg Mango Chutney and the Corn Salsa.