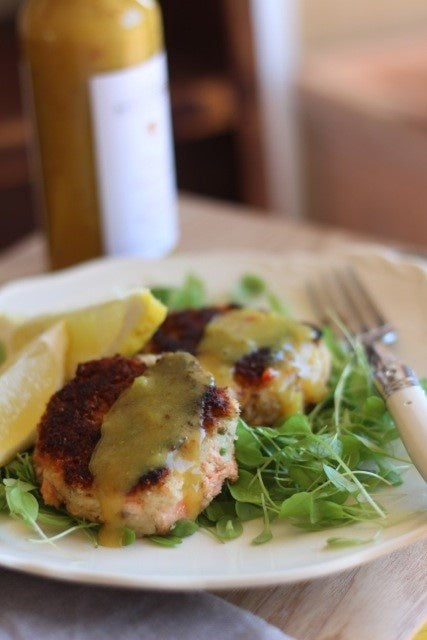 Ingredients
500g chat potatoes
3 cloves garlic, peeled and crushed
1/4 cup olive oil
Zest and juice of one lemon
4 x medium-sized salmon fillets (pin-boned and skin off)
2 tbsp capers, finely chopped
1 cup flat-leaf parsley, finely chopped
2 tbsp chives, finely chopped
2 eggs
3 cups wholemeal breadcrumbs
Vegetable oil, for frying
---
Directions
About a million times better than their frozen counterparts, these fish cakes are full of goodness and flavour. The sweet mustard sauce is a great match.
Place the potatoes in a saucepan with cold water. Put on a hot plate on high and bring to the boil. Cook for 10 minutes or until the potatoes are tender. Drain and return to the saucepan. Add the garlic, lemon juice, rind, oil and season to taste. Mash roughly then set aside.
Heat a little oil in a frying pan on high and cook the salmon pieces, two at a time, for 3 minutes on each side. Roughly flake the cooked salmon pieces into the potato mash. Stir through the capers, egg, parsley, chives and one cup of the breadcrumbs.
Shape mixture into patties, dredge through the remaining breadcrumbs and set aside on a lined tray until you have finished shaping the mixture. Heat a little more oil in your frying pan and cook the patties in batches, for 4 minutes on each side or until they have a golden crust and are cooked through.