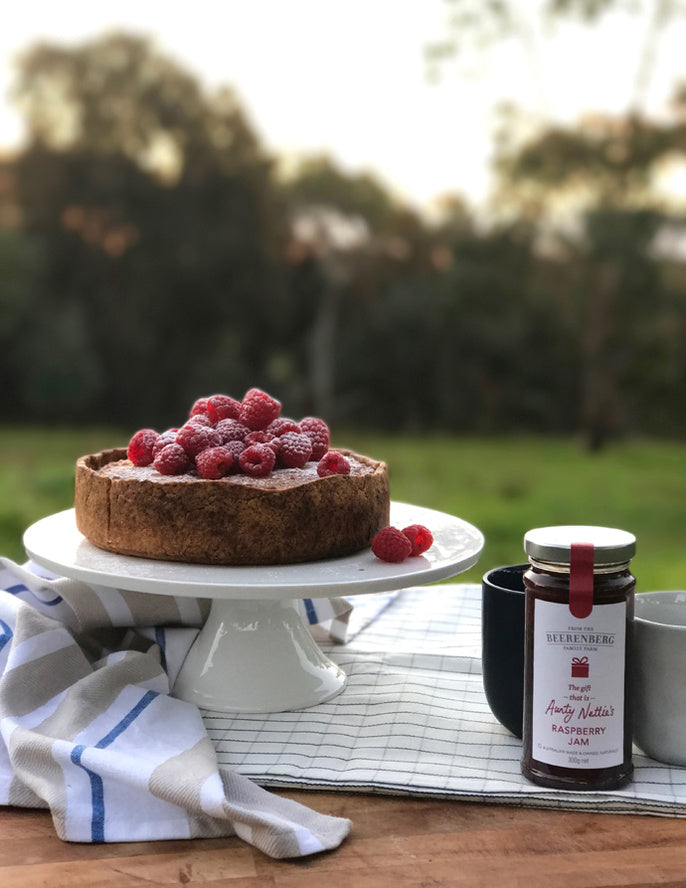 | | |
| --- | --- |
| Preparation time: | 20 mins + 20 mins in fridge |
| Cooking time: | 54 mins |
| Serves: | 8 - 10 |
Ingredients
For the pastry:
100g cold butter
175g plain flour
20g icing sugar
1 egg yolk
1 tablespoon cold water
For the filling:
170g butter, softened
170g caster sugar
1 teaspoon vanilla extract
2 eggs
1 egg white
½ jar Beerenberg Raspberry Jam
225g almond meal
80g plain flour
1 punnet raspberries
Method:
Preheat the oven to 170°C and grease a 20cm tart dish. To make the pastry, blend the cold butter and flour in a food processor until the mix resembles breadcrumbs. Add the icing sugar, egg yolk and water and pulse until just combined. On a lightly floured work surface roll until 3mm thick. Lay the pastry into the tart dish and trim the edges. Prick the base with a fork and place in the fridge for 20 minutes.
To prepare the filling, add the butter and caster sugar to a large bowl. Cream for 5 minutes until pale. Add the vanilla extract, eggs, and egg white, one at a time, beating after each addition. Add the Beerenberg Raspberry Jam and beat to combine. Add the almond meal and flour and beat on low until just combined.
Line the pastry with non-stick paper and fill with pastry weights or uncooked rice. Place in the oven and cook for 7 minutes. Remove the weights and paper and cook for a further 7 minutes. Add the almond filling to the pastry and spread until smooth. Cover with aluminium foil and place in the oven. Turn the temperature to 160°C and cook for 50 minutes, or until cooked through.
Allow to cool before removing the tart from the dish. Top with fresh raspberries to serve.