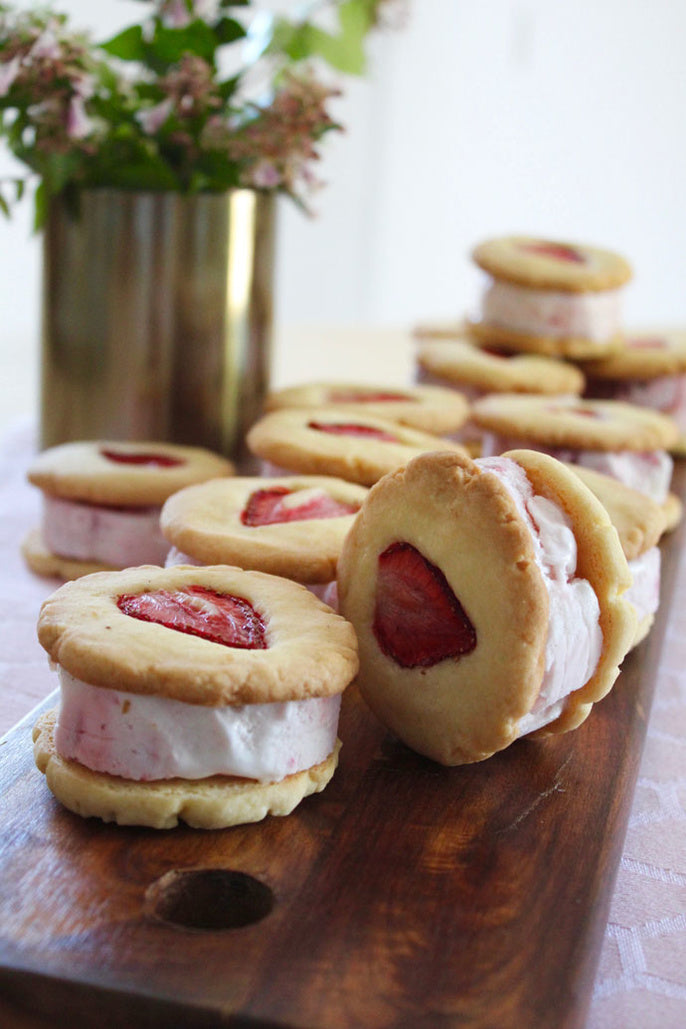 | | |
| --- | --- |
| Preparation time: | 10 mins |
| Cooking time: | 20 mins |
| Serves: | Makes 12 Sandwiches |
Ingredients 
275g butter, softened
100g icing sugar
1 teaspoon vanilla extract
60g cornflour
300g plain flour
250g Beerenberg Farm Strawberries, stalks removed
500g vanilla ice cream, slightly softened
Method:
Preheat the oven to 150°C and line two large baking trays with non-stick baking paper. Place the butter, icing sugar and vanilla into a large bowl. Using electric beaters, cream until light and fluffy. Add the cornflour and plain flour and fold to combine. Roll into 24 even-sized balls and place on the prepared baking trays. Using your fingers, flatten into discs. Thinly slice a few of the strawberries and place one piece into each biscuit disc. Place into the oven and cook for 20 minutes, or until beginning to brown around the edges. Allow to cool.
As the biscuits are cooking, place the remaining strawberries in a mixing bowl. Roughly smash the strawberries into the bowl with the end of a rolling pin. Add the vanilla ice cream and mix until combined. Place the ice cream back into the freezer until the biscuits are cool.
Turn 12 of the biscuits upside down and place a scoop of ice cream onto each. Top each with another biscuit and place back in the freezer until ready to serve.