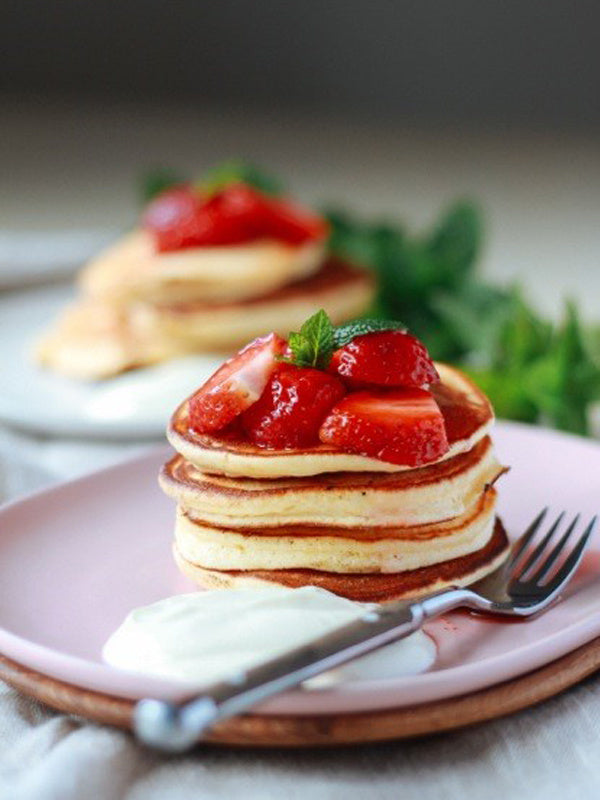 Ingredients
4 eggs, separated
1/3 cup caster sugar
zest and juice of two oranges
250g natural yoghurt
1 cup plain flour
1 punnet strawberries, hulled and halved
1 cup yoghurt, extra
1/2 tsp rosewater
---
Directions
Pretty much the ultimate breakfast or brunch treat - these hotcakes make any morning an occasion!
Beat the egg whites in a clean, dry bowl until they form stiff peaks.  Place the yolks, sugar and zest in another large bowl then whisk until pale and frothy. Fold in the yoghurt and orange juice, then sift in the flour and gently fold together until you have a nice, thick batter.  Finally, add the egg whites, folding them together very gently so you keep as much air in the batter as possible.
Heat a little butter in a non-stick frying pan until it melts and bubbles.  Cook for a minute on each side, or until you see bubbles forming on top of the pancakes, then flip and cook for a little longer on the other side - you want them to be lightly golden.
Stir the rosewater through the yoghurt, then serve hotcakes in stacks with little piles of strawberries, the rosewater yoghurt and a few mint leaves.
NOTE: For an extra Strawberry kick, you can also serve with Beerenberg Strawberry Jam