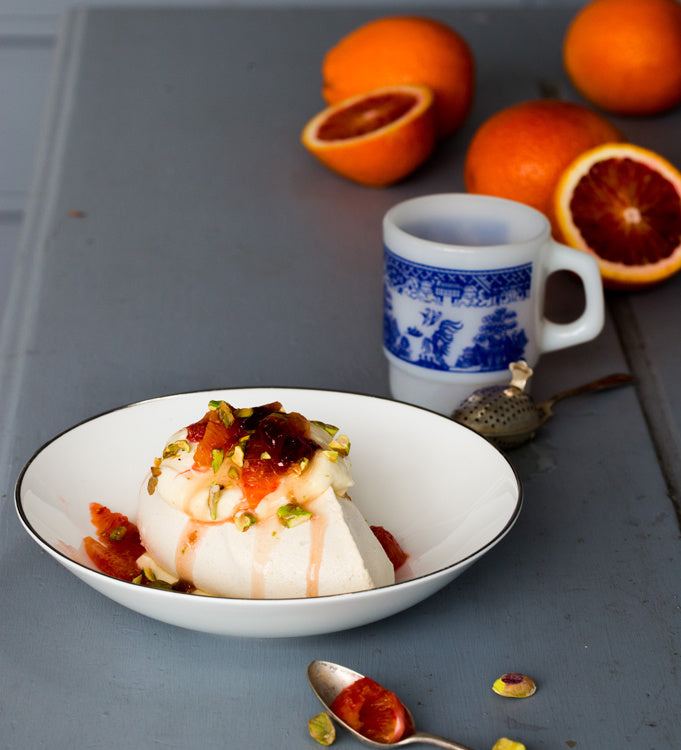 Ingredients
150g egg whites (4 large eggs)
200g caster sugar
2 tsp cornflour
½ tsp vanilla extract
a pinch of salt
4 drops white vinegar
2 Australian blood oranges
---
Directions
For this dish, the classic soft-centre pavlova gets an update with gorgeous Australian Spring blood oranges, pistachio nuts and the sweet perfume of Beerenberg Strawberry & Rose Jam.
Heat your oven to 90°C (fan forced).
In a stand mixer, whip the egg whites until they form soft peaks. Gradually add the sugar while the mixer is running and continue to whip until the egg whites are glossy and thick. Fold through the salt, cornflour, vinegar and vanilla extract.
With a large metal spoon, take large quenelles of the meringue and place them onto a baking tray lined with baking paper. Bake for 75 minutes, and then without opening the door, turn off the oven and leave the pavlovas for about 3 hours to cool in the oven.
For the whipped cream, whip the cream and icing sugar together until the mixture is thick, aerated and forms soft peaks. Peel and segment the blood oranges, removing as much pith and membrane as possible.
Place the Beerenberg Strawberry & Rose Jam in a microwave proof bowl with 1 tsp of water. Microwave for 30 seconds and stir to a thick sauce.
Cover the tops of each pavlova with whipped cream and scatter over the blood orange segments and crushed pistachio. Drizzle with Beerenberg Strawberry & Rose Jam and serve.