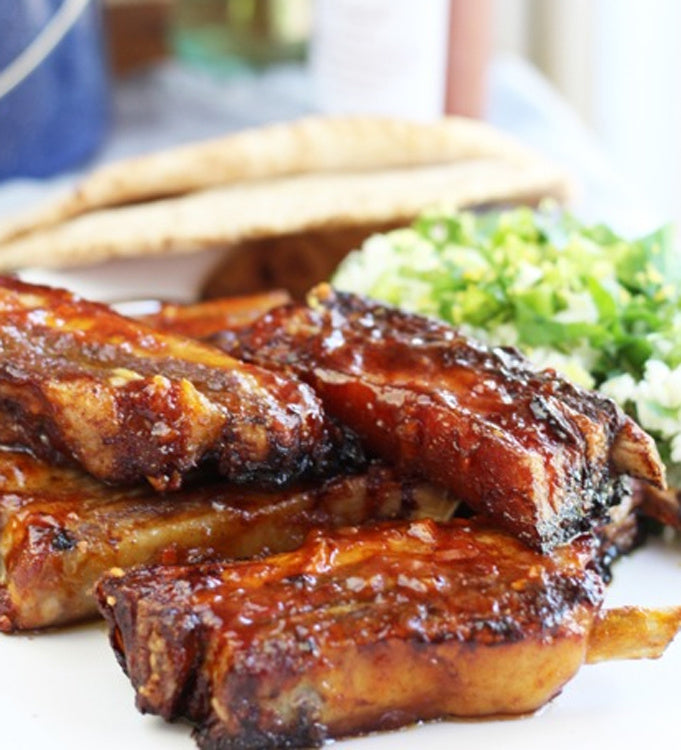 Ingredients
Juice and zest of 2 lemons
3 tbsp olive oil
2 spring onions, finely chopped
1/4 cup mint leaves, finely chopped
1/4 cup parsley leaves, finely chopped
---
Directions
Sticky, easy and delicious - this is perfect entertaining fare for when you have a group of old friends over and don't mind a messy table!
Preheat oven to 200°C. Mix the sugar, paprika, cayenne pepper and salt and pepper together then rub over the ribs. Set aside to marinate for 30 minutes. Place ribs in an ovenproof dish then into the oven for 1 1/2 hours. Pour over the Beerenberg African Spice Taka Tala Sauce & Marinade, then cook for 1/2 hour more, basting occasionally.
Meanwhile cook the rice; place rice and water in a saucepan on high and bring to the boil. Reduce heat, cover and simmer for 15 minutes. Remove from heat, stir through the zest and juice and place a tea towel on the saucepan and return the lid. Once the rice has cooled a little, stir through the olive oil and herbs.
Serve the hot ribs with lemon rice, extra Taka Tala Sauce & Marinade and loads of napkins!