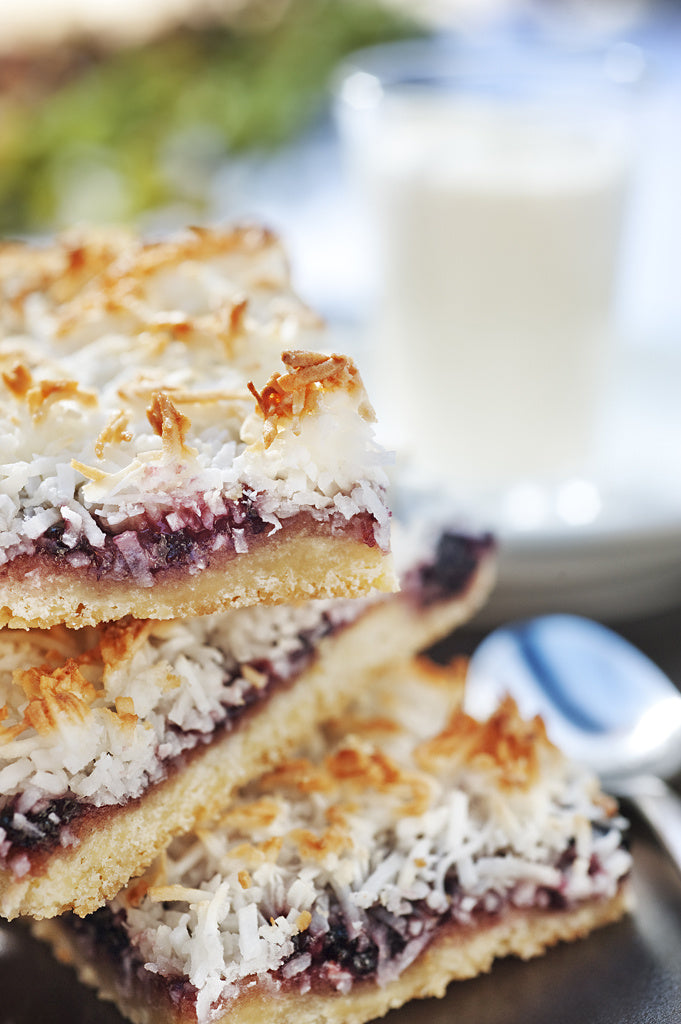 Ingredients
2 cups plain flour
1 cup caster sugar
125 grams butter, chilled, cubed
3 eggs
1 teaspoon vanilla essence
---
Directions
Preheat oven to 180°C. Grease and line a 3 cm deep, 24 cm x 29.5 cm lamington pan. Using a food processor, mix flour, ½ cup of the sugar and butter to resemble breadcrumbs. Add one egg and vanilla. Process to form a dough.
Press dough into base of the prepared pan. Bake for 15 to 20 minutes, or until light golden. Spread Blackberry Jam over warm base, and dot teaspoons of Lemon & Lime Curd on top of the jam.
Whisk remaining eggs sugar together, then stir in coconut.  Spread the mixture over the Blackberry Jam*.  Bake for 25 minutes, or until golden.
Cool completely in pan. Cut into pieces. It's easier to cover it and let it cool overnight in the fridge, then slice it the next day ...if you can wait that long!
* Beerenberg Blueberry Jam is a great alternative for blackberry.