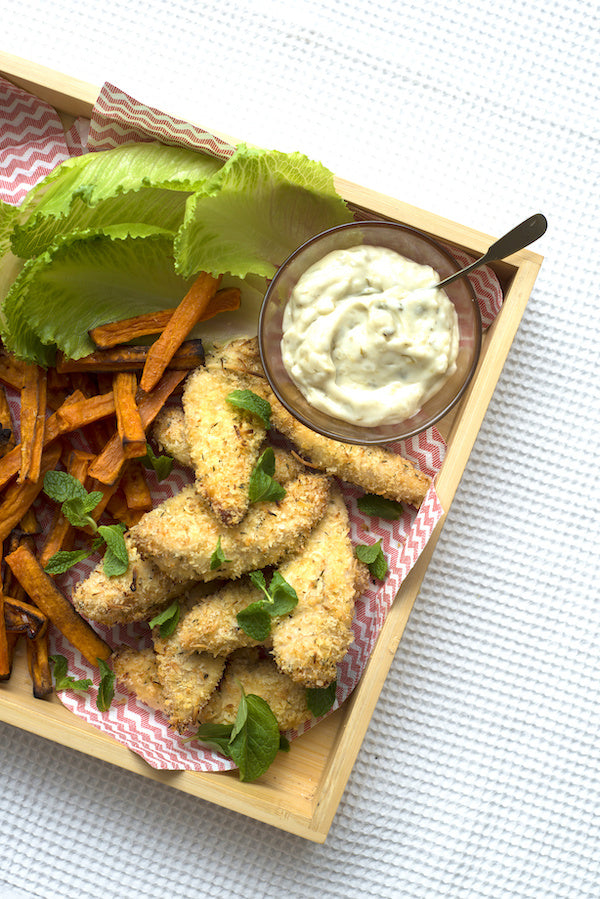 Ingredients
12 chicken tenderloins
¼ cup flour
Pinch salt, to taste
2 eggs
2 cups panko breadcrumbs (can be found in the Asian section of the supermarket)
2 tbsp grated Parmesan cheese
Olive oil spray
1 large sweet potato, peeled and cut into chips
2 tbsp olive oil
1 cos lettuce
1 bottle Beerenberg Tartare Sauce
1 lemon, juiced
---
Directions
Preheat the oven to 180°C.  Line a baking tray with baking paper.
Place the flour and salt in a plastic bag (a freezer bag or zip-able large lunch bag is easiest).
Crack the eggs into a shallow dish and lightly whisk with a fork.
Mix the breadcrumbs and Parmesan together in a shallow tray or dish.
To crumb the tenderloins, put them in the bag of flour, secure and shake to coat the chicken. Then dip each piece of chicken into the beaten egg to coat and roll in the breadcrumb. Pat to coat the chicken.
Place the crumbed chicken onto the prepared oven tray and spray with olive oil.
Toss the sweet potato chips in a little olive oil and place onto the same tray (if there is space) tray. Sprinkle with salt to season.
Cook for 10 to 12 minutes or 'til the chicken is golden and crispy.
To serve mix the Tartare with lemon juice and serve as a dipping sauce.
Arrange the chicken nuggets and sweet potato chips on a tray with lettuce leaves.
Wrap a nugget and some chips in a lettuce leaf and add a dollop of tartare sauce.
Serving suggestion: Scatter mint leaves onto your serving platter for extra fancy-ness.