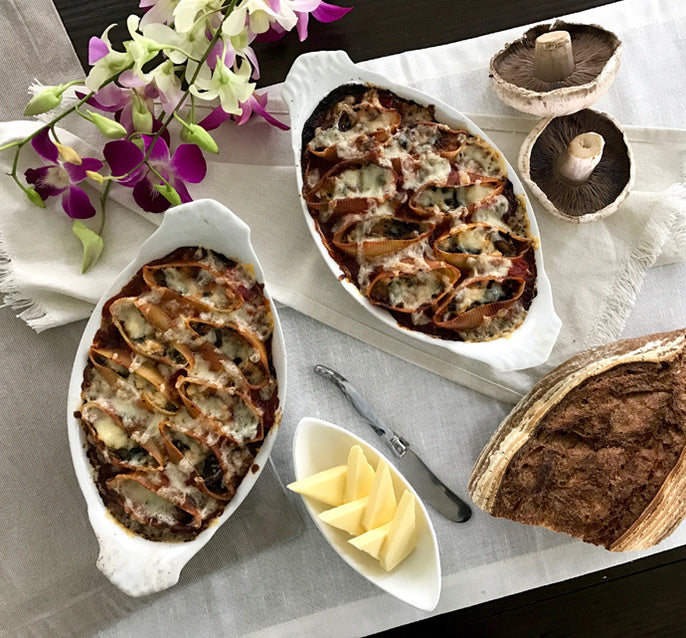 | | |
| --- | --- |
| Preparation time: | 10 mins |
| Cooking time: | 70 mins |
| Serves: | 4 |
Ingredients
1 tablespoon oil
300g large flat mushrooms, roughly chopped
3 cloves garlic, crushed
salt and pepper
300g ricotta, crumbled
200g provolone, grated
½ bunch basil, roughly chopped
½ brown onion, diced
2 x 400g cans diced tomatoes
300g extra large pasta shells
Method:
Heat a large frypan over high heat and add half of the oil. Add the mushrooms and cook for 5 minutes whilst stirring. Add the garlic, and a big pinch of salt and pepper, and cook for another 2 minutes. Transfer the mushrooms to a mixing bowl and allow to cool slightly. Add the ricotta, 150g of provolone and half of the basil.  Mix to combine.
Place the same frypan over medium heat and add the remaining oil. Add the onion and cook for 3 minutes or until softened. Add the jar of Beerenberg Slow Cooker French Chicken (Coq au Vin) and cook for another 2 minutes. Add the diced tomatoes, turn the heat to low, and cook for 10 minutes. Remove from the heat and mix in the remaining basil and 400ml of water.
Preheat the oven to 180°C and grease a large baking dish. Pour the tomato sauce into the baking dish. Stuff each of the pasta shells with the mushroom mixture. Place in the baking dish, ensuring each shell is submerged in the sauce. Top with remaining provolone and place in the oven for 45 minutes.