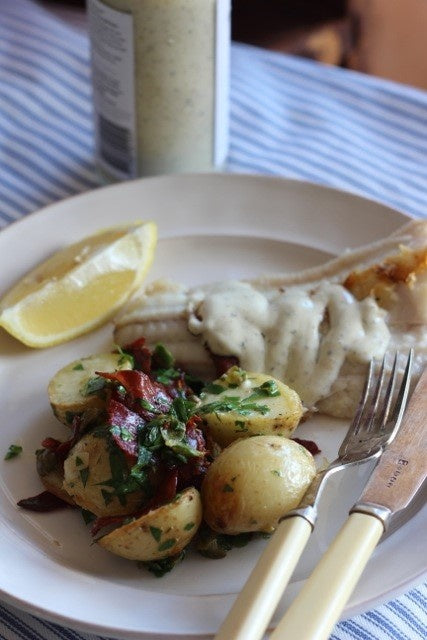 Ingredients
1.5kg small chat potatoes, halved
6 slices prosciutto, sliced
2 tablespoons olive oil
Juice and zest of one lemon
1 tablespoon drained capers, chopped
1 handful flat leaf parsley, finely chopped
4 x 200g snapper fillets, skin on
1/4 cup olive oil
Chopped parsley or sorrel, to serve
---
Directions
Light, easy and just delicious, this is a great way to enjoy fresh fish and the salad is always a big winner with everybody. Serve extra Beerenberg Tartare Sauce - it's so good, you'll need it!
Preheat oven to 200C. Place the potatoes in a large saucepan of cold water over high heat and bring to the boil. Cook for 15 minutes or until cooked through. Drain, then place in a large bowl with the proscuitto and olive oil. Season to taste and toss well. Transfer mixture to a baking tray and place in the oven for 40 minutes or until golden and tender.
Combine the lemon zest and juice, capers and parsley in a bowl and add the cooked potatoes and prosciutto. Toss to coat, adding another splash of olive oil if you think it needs it.
Heat a large non-stick frying pan over high heat. Brush the snapper pieces with a little of the olive oil and sprinkle with salt and pepper. Cook the fish, skin-side down, for four minutes. Turn, then cook for a further 2 minutes or until just cooked through. Serve with the potato salad, a sprinkling of herbs and a good drizzle of Beerenberg Tartare Sauce.