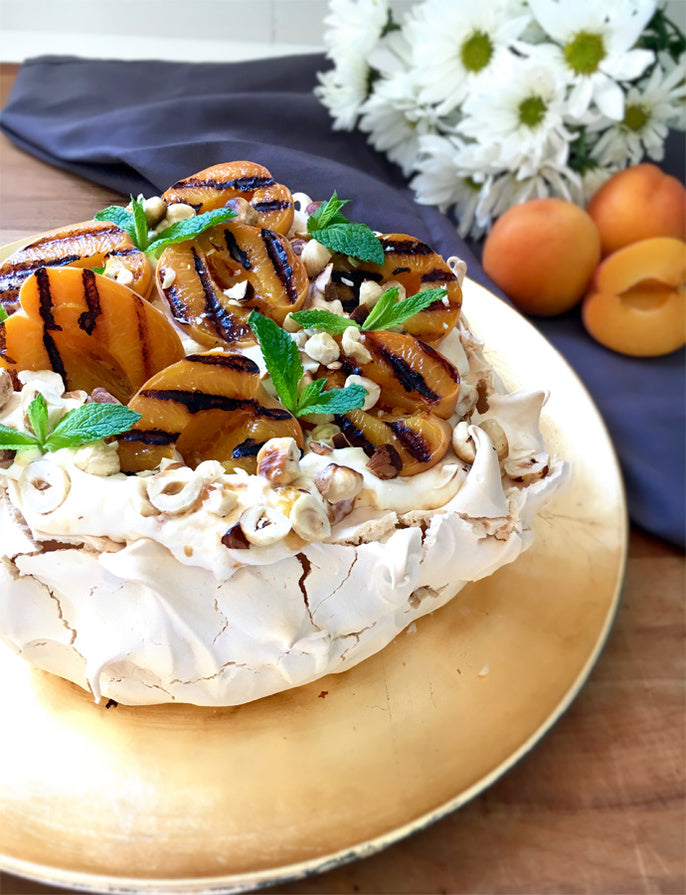 Ingredients
5 egg whites
1¼ cups caster sugar
2 teaspoons cornflour
1 teaspoon vanilla extract
1 teaspoon white vinegar
5 apricots, halved and pitted
---
Directions
Preheat the oven to 120°C, and line a large baking tray with non-stick paper.
Add the egg whites to a large bowl. Using an electric beater, whisk on high speed until soft peaks form. Add the sugar and whisk for 5 minutes, or until sugar has dissolved. Add the cornflour, vanilla and vinegar and whisk for 30 seconds until just combined. Spoon the meringue onto the tray and work into a circle. Leave rough edges and peaks to ensure a crisp meringue. Place in the oven and turn the temperature down to 100°C. Cook for 1½ hours before turning off the oven. Leave the pavlova in the oven until the oven has cooled.
Heat a large griddle pan or frypan over medium heat. Place the apricots in the pan, flesh down. Without moving, cook for 3 minutes or until charred. Remove from the heat and set aside to cool.
In a large bowl, whisk the cream until stiff.  Add the Beerenberg Apricot Jam and fold to combine.
Before serving, pile the apricot cream onto the pavlova.  Top with the grilled apricots, hazelnuts and fresh mint.