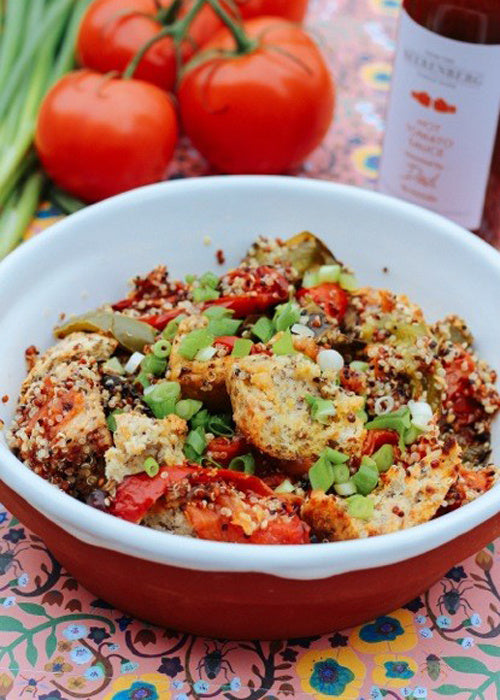 Ingredients
3 vine-ripened tomatoes, halved
1 red capsicum, halved and de-seeded
1 green capsicum, halved and de-seeded
1 cup quinoa
3 slices sourdough bread, one or two days old
1 spring onion, finely chopped
---
Directions
Full of nutrition, colour and texture - this little number really is a super salad. And the Hot Tomato Sauce really lifts the whole dish and gives it a final flavour punch. Serve on its own as a light lunch or as a side-dish with grilled meats.
Preheat oven to 180C. Arrange the tomatoes and capsicum on a baking tray, drizzle with olive oil then place in the oven for 45 minutes or until the tomatoes and capsicum are soft and cooked through. Meanwhile, bring a saucepan of water to the boil, add quinoa and cook for 10 minutes. Drain and set aside to dry a little. Tear up the bread and add to the baking tray with tomatoes and capsicum for their last 10 minutes of cooking, or until golden and quite hard.
Remove tray from the oven and roughly chop the tomatoes - these will act as a sort of sauce - and toss through the quinoa. Add the capsicum, bread pieces and toss to combine. Drizzle with Beerenberg Hot Tomato Sauce and scatter with spring onions. Serve hot or at room temperature.