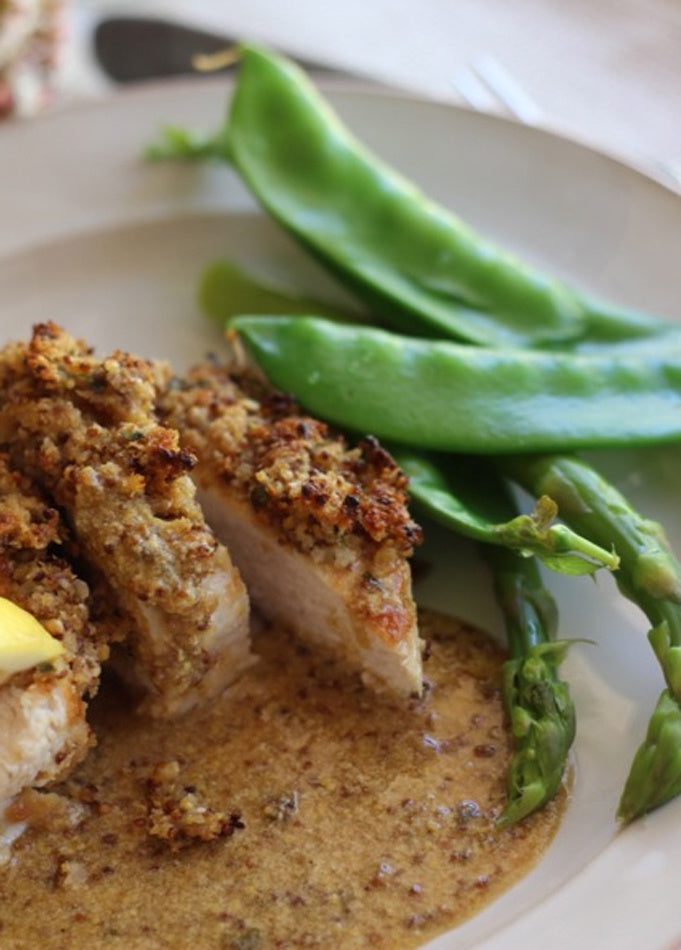 Ingredients
4 chicken breasts
3 tbsp olive oil
4 tbsps unsalted butter, softened
2 1/2 tablespoons Beerenberg Bavarian Mustard
3/4 cup wholemeal breadcrumbs
zest of one lemon
2 tablespoons chopped fresh thyme
2 tbsp chopped parsley
3/4 cup chicken stock
3 tbsp cream
1 tbsp mustard, extra
1 bunch asparagus, blanched
2 cups snow peas, blanched
---
Directions
Preheat oven to 200°C. Rub chicken breasts with a little of the olive oil and season well.
Mix together the butter, mustard, breadcrumbs, lemon zest, herbs and season to taste.


Heat an ovenproof frying pan on high and add a little more oil. Cook the chicken on one side for four minutes, or until crispy.
Remove from heat, divide the mustard mixture across the top of each chicken breast then place pan in the oven for 15 minutes or until the chicken is cooked through and the top golden and crunchy.


Once cooked, transfer the chicken pieces to a warm platter.
Return pan to the stovetop on high. Pour in the stock and stir until reduced (about 5 minutes). Remove from heat; add the cream and extra mustard then strain sauce into a warm jug.
Serve the chicken, sliced thickly, with the sauce and greens.