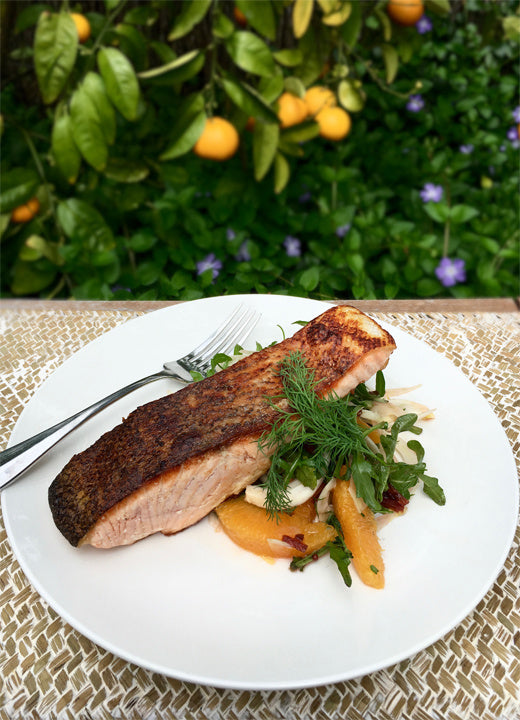 Ingredients
2 tablespoons Beerenberg Balsamic Beetroot Relish 
2 teaspoons white balsamic vinegar
2 tablespoons olive oil
3 big handfuls rocket
3 oranges, segmented
2 fennel bulbs, outer layer, top and core removed, and inside thinly sliced
big handful dill, torn
1 tablespoon cooking oil
6 salmon fillets, skin on, pin boned
salt & pepper
---
Directions
To make the dressing, mix the Beerenberg Balsamic Beetroot Relish, white balsamic vinegar and olive oil in a small bowl or jar.
In a large bowl, add the rocket, orange, fennel and dill.  Toss with the balsamic beetroot dressing.  Heat a very large frypan over high heat and add the cooking oil.  Generously season the salmon fillets with salt and pepper and add to the pan skin side down.  Turn the heat to medium and cook for 4 minutes without moving the salmon.  This will help the salmon to not stick to the pan.  Turn the salmon, and cook for another 4 minutes before removing from the heat.
To serve, place a large handful of the orange and fennel salad onto a plate, and top with the salmon fillet.