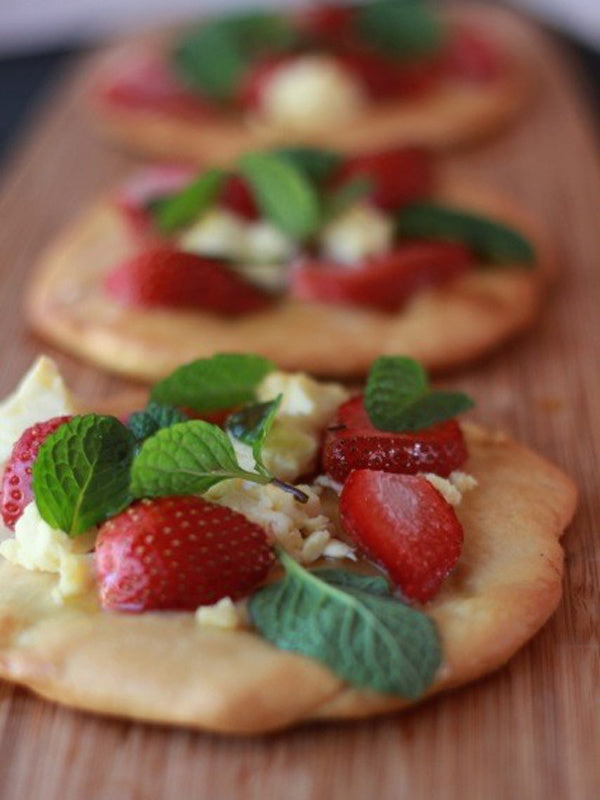 Ingredients
10g honey
20g dried yeast
300mls lukewarm water
500g plain flour
10g salt
1 punnet strawberries, hulled
1 cup feta, crumbled
2 handfuls mint leaves
olive oil and balsamic vinegar, to finish
---
Directions
Strawberries, mint and feta are a beautiful combination. Especially when finished with a drizzle of aged balsamic or just peppery olive oil.  Serve in little triangles with pre-dinner drinks.
Whisk the honey, yeast and water together and leave for 10-15 minutes.  Place flour and salt in the bowl of an electric mixer with a dough hook; or just one large bowl and make a well in the centre.  Pour in the water and yeast mixture and either mix with the dough hook for 6-7 minutes or by hand.  If using the mixer, finish off with a few minutes kneading by hand, just to get the dough nice, warm and soft.
At this point, it's all about feel, so add a little more water or flour if the dough feels dry or too wet. You really want it to be smooth, silky and springy but not at all sticky.  Place in a lightly oiled bowl, slash the top of the dough a couple of times with a sharp knife and cover with a clean tea towel.  Leave to rest in a warm place for one hour.  This recipe will make two large pizzas or a few small ones.
When ready to cook the pizza, preheat oven to 220C and place a pizza stone or baking tray on the middle shelf.  Roll out the dough to the desired shape and pre-bake for about 5 minutes before adding any toppings.  You want the dough to just begin to take on a golden colour.
Top the pizza with the strawberries and feta and return to oven for 10 minutes or until the strawberries are beginning to caramelise and the pizza is golden.  Top with the mint leaves, drizzle with balsamic and/or olive oil and serve.
Note - This dough also makes a great focaccia.  Just press into a lamington tray after the first rising (it should be about 2cm thick).  Let rise again 30 minutes and cook in a hot oven for 25 minutes or until golden brown.