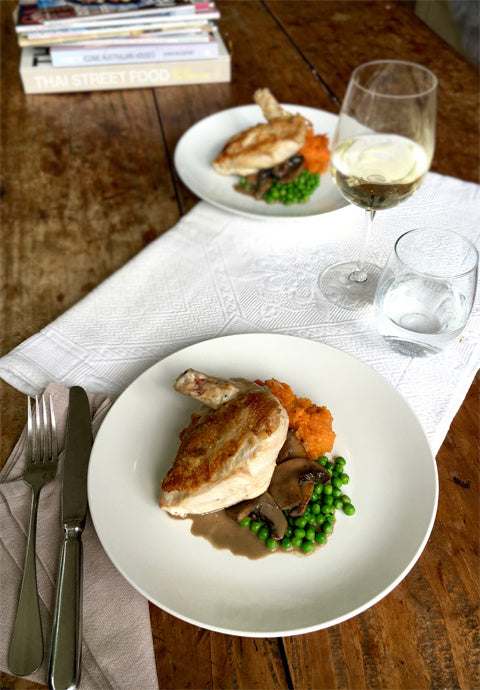 Ingredients
2 medium sweet potatoes, peeled and cut into 2cm pieces
1 tablespoon cooking oil
4 chicken breasts
salt & pepper
8 Swiss brown mushrooms, sliced
2 garlic cloves, sliced
---
Directions
Preheat the oven to 180°C.  Place the sweet potato on a baking tray, cover with foil and place in the oven for approximately 30 minutes.
Whilst the sweet potato is cooking, heat a large frypan on medium heat and add the oil, chicken breasts and a good pinch of salt and pepper.  Cook for 3 minutes on either side or until golden brown.  Transfer the chicken onto a baking tray, and into the oven for 15 -18 minutes, or until cooked through.
In the frypan that the chicken was cooked, add the mushrooms, garlic and thyme sprigs. Place on a medium heat and cook for 5 minutes. Turn the heat to low and add the cream, Beerenberg Caramelised Onion and a pinch of salt and pepper. Cook for 5 minutes before discarding the thyme sprigs and removing from the heat.  Once the sweet potato is soft, transfer the pieces into a bowl, and mash with a fork until smooth.
To serve, divide the sweet potato mash between four plates, top with the chicken breast, peas, and mushroom and onion sauce.