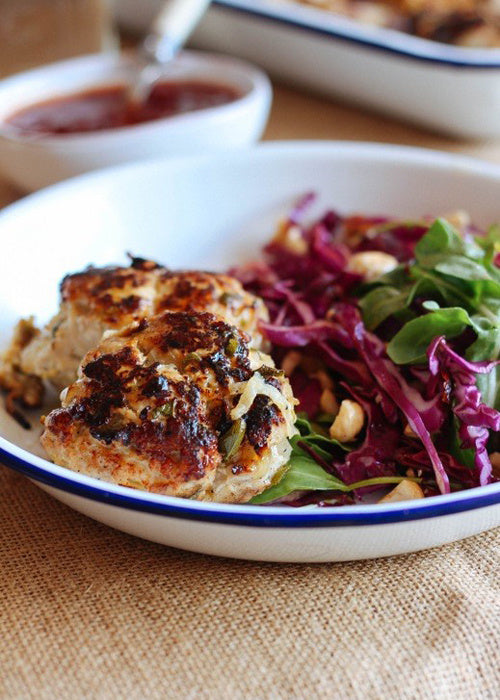 Ingredients
2 tbsp butter
1 brown onion, finely chopped
A pinch of ground allspice
4 tbsp sage leaves, finely chopped
900 lean pork mince
2 tart apples, grated (unpeeled)
1 egg, lightly beaten
1/2 cup white wine
3/4 cup chicken stock
Zest and juice of one lemon
salt and pepper
Red cabbage slaw:
1/4 red cabbage, very finely sliced
1 handful baby spinach leaves
1/4 cup toasted hazlenuts, roughly chopped
1 tart green apple, peeled and finely sliced
2 tbsp apple cider vinegar
1 tsp brown sugar
1 tsp Dijon mustard
4 tbsp olive oil
---
Directions
Preheat oven to 180C. Melt half of the butter in a large frying pan on medium, add the onion and cook for 5 minutes. Add the allspice and half of the sage, stir well then set aside for the mixture to cool. In a large bowl, combine the mince, apple and egg. Once cool, stir through the onion mixture and season well. Roll mixture into a dozen small meatballs (about the size of a golfball).
Wipe out your frying pan then place it over medium-high heat with the remaining butter. Gently brown the meatballs (in batches), adding more butter if necessary; then transfer to an oven-proof dish. Set aside while you make the braising sauce; to do this just combine the wine, stock, lemon zest and juice, and remaining sage and bring to the boil. Let bubble away for a few minutes so the mixture reduces then pour over the meatballs. Transfer dish to the oven and cook for 45 minutes.
For the slaw; mix the cabbage, spinach, nuts and apple together in a bowl. Whisk together the dressing ingredients then toss to combine. Serve the rissoles straight from the oven with the slaw and Beerenberg Burger Relish.