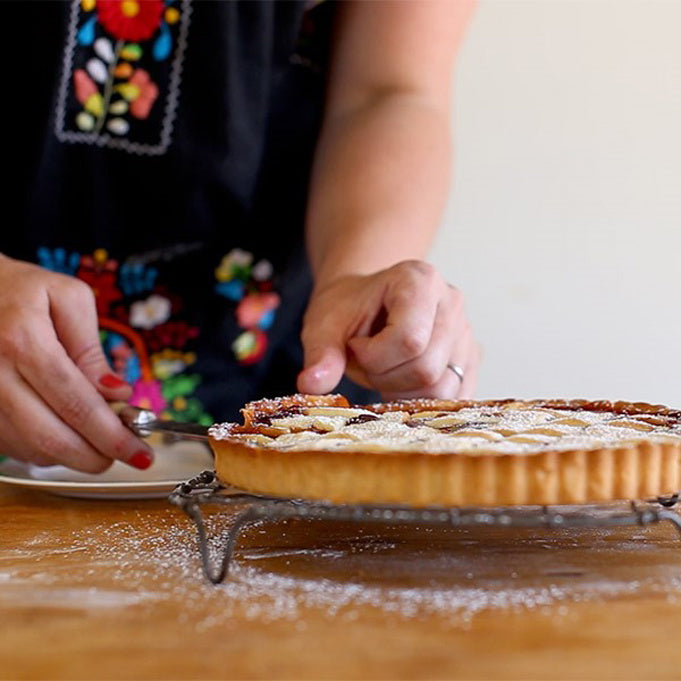 Ingredients
150g cold butter, cubed
1 1/2 cups plain flour
1/2 cup icing sugar
---
Directions
Place the flour and icing sugar in a bowl and pop in the freezer for half an hour. Tip your cold flour and sugar into the bowl of a food processor and blitz for a moment. Add the butter and blitz until you have a coarse sand-like texture. Add the egg and blitz for a moment more. Tip the mixture out onto a work surface and bring together with the palm of your hand, working it until you have a lovely, smooth disc of dough.
Divide into one big disc and one smaller disc of pastry and cover both with plastic wrap. Place in the fridge to rest for at least 30 minutes. Then, on a lightly dusted work surface, roll the larger disc of pastry until about 5mm thick and drape into a loose-bottomed tart tin. Roll all pastry scraps up into a ball and return to the fridge with the lined tart tin for another half an hour. Preheat the oven to 200C and line the chilled pastry case with paper and baking weights. Blind bake for 10 minutes, remove the paper and weights and bake for another five minutes. Remove from the oven and let cool for a minute. Roll out remaining pastry and cut into strips of various lengths and widths. Spoon the jam into the pastry shell then top with the pastry working in a lattice pattern (or just plain criss-cross is great too). Sprinkle with a little caster sugar and return to the oven for another 10 minutes or until the pastry is golden (if you are worried that the pastry edge is going to burn, cover with foil for the last five or so minutes of baking.
Dust with icing sugar and serve warm with double cream or ice cream.