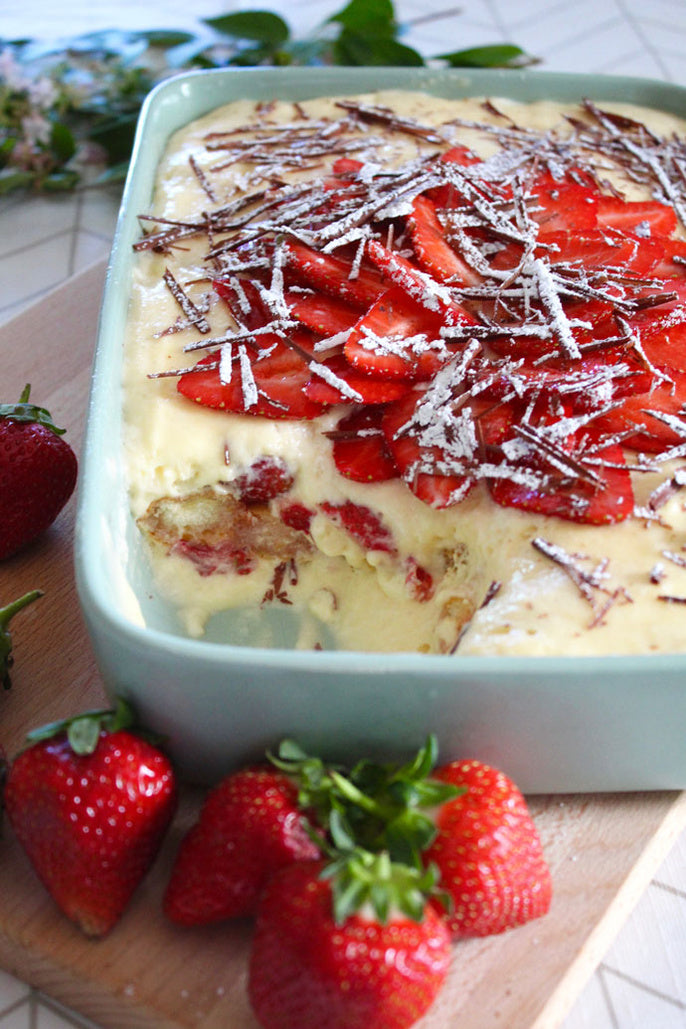 | | |
| --- | --- |
| Preparation time: | 15 mins |
| Cooking time: | Nil |
| Serves: | 10 - 12 |
Ingredients
500g Beerenberg Farm Strawberries, stalks removed
¾ cup vanilla liqueur
¾ cup hazelnut liqueur
8 eggs, separated
1 cup caster sugar
500g mascarpone
300g savoiardi biscuits
50g dark chocolate, grated
Method:
Place half of the strawberries into a mixing bowl and roughly smash with the end of a rolling pin. Add the vanilla and hazelnut liqueurs and mix to combine. Set aside.
Place the egg yolks and caster sugar into a large bowl. Using electric beaters, whisk for 3 minutes or until pale and fluffy. Add the mascarpone and fold until combined.
In a separate large bowl, add the egg whites. Using clean and dry beaters, whisk until soft peaks form. Add half of the egg whites to the mascarpone mixture and fold to combine. Add the remaining egg whites and gently fold until just combined.
On a serving dish, place one third of the mascarpone mixture and spread until roughly even. Lay half of the savoiradi biscuits on the mascarpone and spoon over half of the smashed strawberries. Repeat with another third of the mascarpone, remaining savoiradi biscuits, and remaining smashed strawberries. Top with the remaining mascarpone and smooth over.
Slice the remaining strawberries and arrange on top of the tiramisu. Sprinkle with dark chocolate and place in the fridge for 2 hours to soak through.